A Finnish sailor's lifelong dream of sailing solo around the world is set to be powered by Raymarine electronics, as he prepares to undertake the gruelling Global Solo Challenge. Ari Känsäkosi plans to complete the 26,000 nautical mile race without burning a drop of fossil fuel as part of his own ZEROchallenge.
In October, Ari will cross the start line off A Coruña, Spain, on a course that winds down the Atlantic Ocean then turns east to leave the world's three great capes to port: Good Hope, Leuwin and Horn. His boat is one of six Class 40 designs taking part and will be fitted with a Raymarine navigation system.
Raymarine General Manager, Gregoire Outters, said: We are proud to be a sponsor for this inaugural event and provide skippers with essential equipment for their circumnavigation. On-board navigation and situational awareness systems are an integral part of modern-day offshore sailing and racing. We provide solutions designed and tested to meet the needs of skippers whether they are cruising coastal waters or crossing the oceans."
The partnership with Raymarine will see Ari fit the latest Axiom+ chartplotter fully integrated with Quantum 2 radar, renowned Raymarine Evolution autopilots, AIS700 Class B transeiver and a YachtSense Link 4G marine router. Completing the system will be a series of instruments and transducers. Ari said it was an easy decision to go with Raymarine.
"Raymarine equipment is super robust - and famous for it. The original Raymarine electronics, installed in 2007 were on board when I bought the boat and they still worked perfectly. Even as a computer pro, I still like systems to be as simple as possible and with Raymarine, you hardly need the manual. Installation is plug and play."
The Raymarine gear will be among very little new equipment on board, as Ari aims to complete the race without generating any carbon emissions.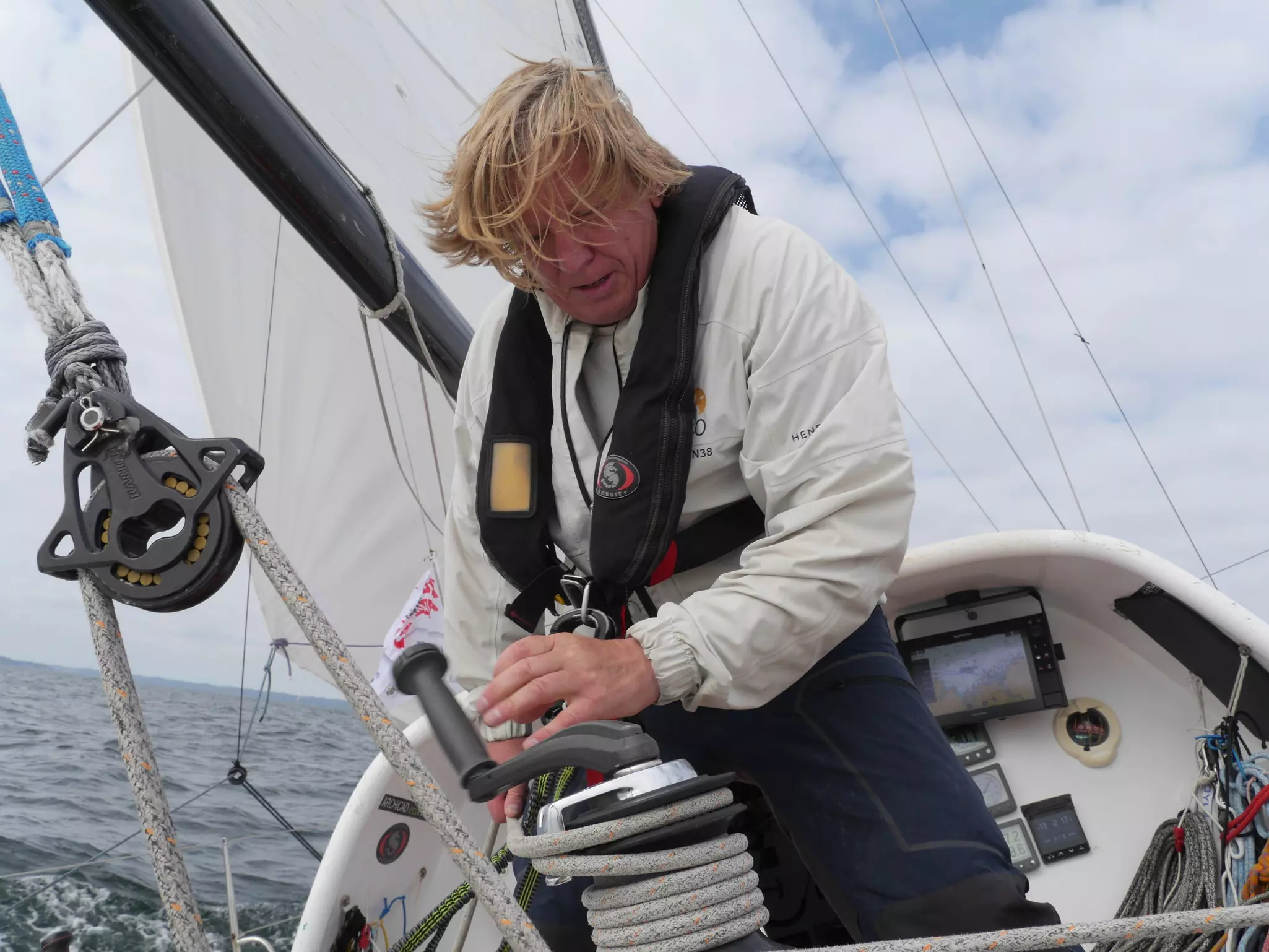 Ari explained: "I both teach and consult on ecological architecture. It is very close to my heart because this whole eco way to do things is part of the idea with the race as well. It's a lifestyle project for me. One of the overall goals is to do the race with zero carbon – just with renewable energy. It's also a very sustainable format, because it aims to get older generation racing boats to the start line again."
Ari has been anticipating this race since he bought the boat, keeping his sailing skills honed with a vigorous programme of Finnish, Baltic and open-ocean racing. He says the boat itself is more tuned for racing under IRC rules and has had to make some adjustments to ready her for the Global Solo Challenge. He has also added an extra three cubic metres of foam at the bow, to increase buoyancy, and improved the pipework for the water ballast system
But in most respects, the boat was well up to the challenge, having been built for the Class 40's offshore racing circuit.
The race itself follows a so-called pursuit format, where boats leave on a staggered start, according to how fast they are rated. They must then try and overtake the leading boats, as the order in which they cross the finish line determines the final standings. Ari's boat is in the highest-performing Super Zero group, so he will leave a full five weeks after the slowest boats. It will pit him against nearly the whole fleet in a thrilling chase.
He is unfazed at the prospect of more than 120 days of total solitude at sea. "It's a different feeling when you're there alone and with nature. It's a really strong feeling. As a skipper, it's a responsibility to sail with others. Alone, you can concentrate on what you know," said Ari.
As a reminder of the many friends who have helped him to prepare for the race, Ari will get them to sign the boat. Beyond that, there are two things without which he couldn't contemplate the race. "As a sailor, I'm a bit superstitious, so I will have an amulet," he said. "And I can't live without Finnish cream cheese. I'm super worried about it!
"Nurturing the ambition to race around the planet under sail since childhood, Ari shows what determination can achieve. His mission to do so without generating any carbon emissions is a real inspiration. We are delighted to support his Global Solo Challenge campaign and welcome him as a Raymarine ambassador," Gregoire Outters concluded.
To find out more about The Global Solo Challenge, visit: https://globalsolochallenge.com/