Long Island home builder and restaurant owner, Tom Morse, recently got the itch for a new boat he could use for nearshore and offshore chartering, as well as commercial tuna fishing. Such diverse demands called for a specialized craft.
"I've always had mostly bridge boats and center consoles. A friend of mine had owned a lot of Downeast boats and that's how I became interested in them," says Morse. "Once I decided to go with the Downeast design, I looked at several builders and made the decision to go with Calvin Beal. I just felt it met our needs better than the others. They had just come out with this 42 hull, and my friend had bought the very first one. But these were commercial lobster boats; none had been built as a sportfisherman, which is what I wanted. We knew we'd have some challenges, but I met with Bruce Farrin (Farrin's Boat Shop) and we really hit it off. He put me at ease with respect to the modifications that would be required. They ended up raising the ceiling of the pilothouse 9 inches, as the floor also had to come up 7 inches to accept the C12.9, 1,000-hp Caterpillar diesel motor. Everything Bruce and his team did really turned out great."
When it came time to outfit his one-off Ocean Vue Calvin Beal 42 with electronics, Morse wanted the best. "Raymarine and FLIR provide cutting-edge technology and we wished to outfit the boat with the latest and best technologies available to us. All of those involved in the boat had owned Raymarine products for some time and were highly satisfied with their quality, so it was a simple decision to carry on using Raymarine," says Morse, who went directly to Roger Williams at CMI Marine Electronics in nearby Lindenhurst, New York for a consultation.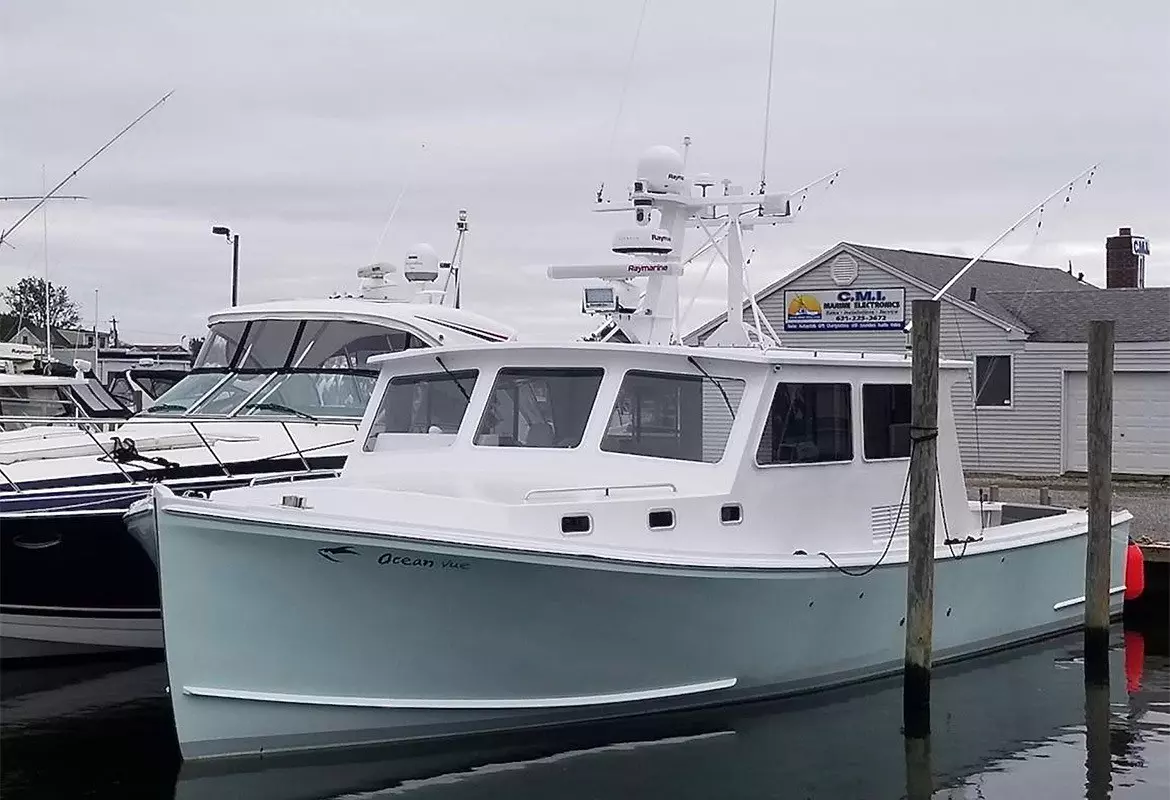 CMI has been operating out of the same yard in Lindenhurst NY since 1979. "It was my brother's business and I started working with him when I was in high school. I eventually took it over when he retired," says CMI owner, Roger Williams. "We primarily service Long Island's north and south shores and have been a Raymarine dealer for over 20 years. The local boaters we deal with go from casual cruisers to very serious fishermen like Tom and the boys running the Ocean Vue," continues Morse, who adds that CMI has consistently resisted the temptation to become a "do-it-all" shop, deliberately choosing to remain firmly specialized in marine electronics.
"Over the last 10 years we have been rigging more fishing craft than ever with Raymarine and FLIR electronics," Williams says. "I always let my customers know there's a lot of great equipment on the market so they fully understand their options, but the dealer support I receive from Raymarine and FLIR is second to none, just like their equipment. When I'm guiding a customer through a substantial equipment purchase for their boat, I tend to recommend the manufacturer offering the best support and, hands down, that's Raymarine. The biggest part of that is their staff," continues Williams. "Through the years, I have dealt with a few different Raymarine staff, and they are always talented, knowledgeable people who honestly care about keeping customers up and running long after the sale. That says a lot and has great value."
Before the Ocean Vue even arrived at CMI, Williams sat down with Morse so he could fully understand what the owner intended to do with the boat and how it would be fished. "Put simply, the Ocean Vue is loaded," says Williams. "It needed to be, because the entire package had to give the boat the ability to match whatever conditions she and the crew would be dealing with during diverse fishing scenarios, from a simple inshore charter to a full-blown multi-day canyon trip, or a commercial season chasing giant bluefins."
"Ocean Vue cruises at 23 knots and tops out at around 30 knots," says Morse. "Primarily a charter boat, she targets nearly every species off the New York coast, which includes anything from striped bass and fluke to pelagic species like yellowfin and bluefin tuna and mahi. Generally, all of our offshore fishing is done near the Hudson Canyon, but we often travel farther east to the canyons south of Block Island and fish commercially for tilefish, tuna, and mahi. We cater to any kind of clientele, having taken out families with children, as well as groups of friends just looking to go fishing offshore or inshore. During winter, the boat and crew head down to North Carolina to take advantage of the commercial bluefin fishery."
Featuring a broad 15'-6" beam, Ocean Vue is a serious fishing boat, capable of operation in a wide variety of conditions. Electronics were selected to maximize performance and safety. "We installed Raymarine Axiom Pro multifunction displays both at the helm and in the cockpit," says Williams. "The Hybrid Touch control offered by Axiom Pro was an important consideration, as it offers fast and easy touch-screen control, with the addition of traditional button and dial controls that can be easier to operate in the severe conditions Ocean Vue would experience." For radar, Morse and Williams opted for both Magnum high-performance long-range open-array radar and Quantum 2 CHIRP radar with doppler collision avoidance technology. "The dual system provides the best possible situational awareness, combining the ability to look for birds and weather at long range with detailed, close-in targeting for navigating through traffic," Williams adds. "AIS provides additional safety and monitoring capability, while a FLIR M364C multispectral camera combines thermal imaging with a visible camera to relay crisp and clear images to either Axiom Pro display in any lighting conditions."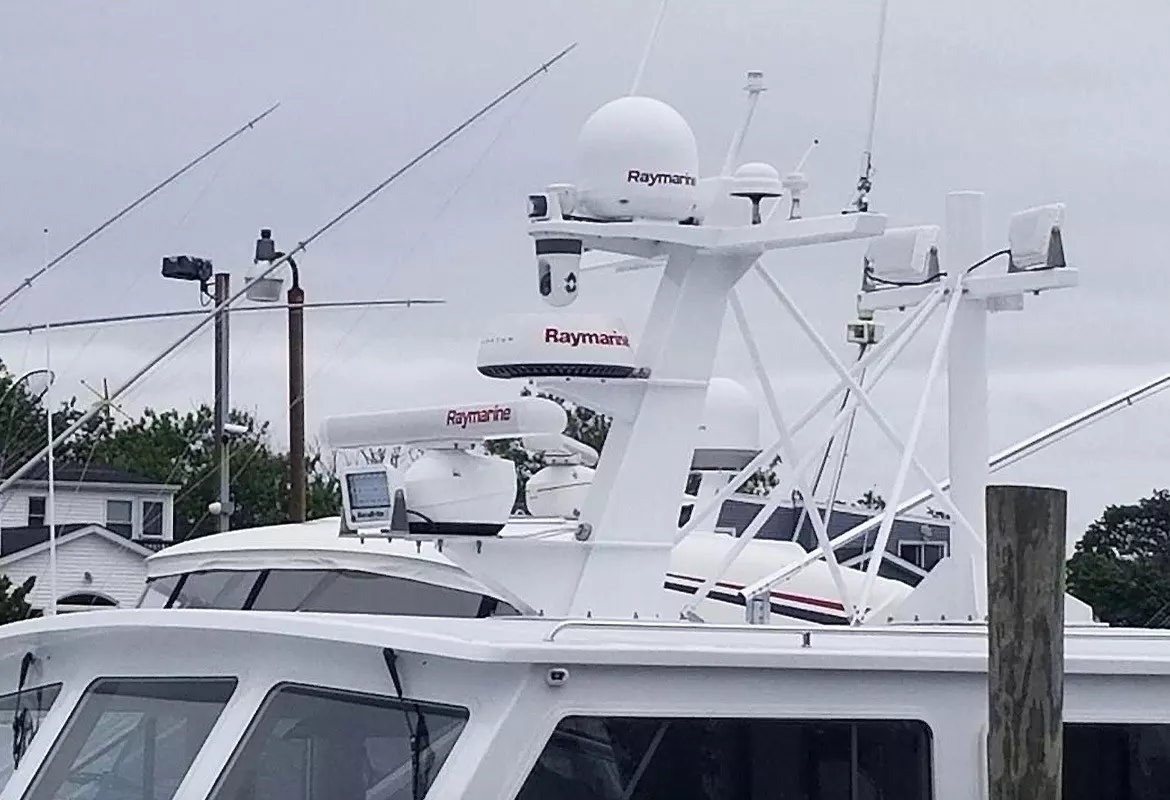 "The FLIR system is one of the most-used features on the Ocean Vue," says Morse. "It's a literal lifesaver at night when trying to navigate through traffic or buoys, and allows us to see well beyond the range of the spotlights atop the mast – and in much better clarity – no matter the conditions."
For finding bait, gamefish, and tracking bottom in the canyons, Ocean Vue is equipped with a Raymarine CP570 dual-channel sounder with a dual-frequency CHIRP thru-hull transducer. The two fully independent sonar channels deliver fast target identification and up to 4kW of combined output power. She's also equipped with a matched pair of RV220 thru-hull transducers for high-frequency DownVision and SideVision while fishing closer to shore.
"In particular, the clarity of the Raymarine depth finders is particularly useful, as often you can mark individual bluefin streaking through balls of bait," Morse says. "This is often the case when we fish down south in North Carolina. SideVision and DownVision are also awesome features and are a favorite of our customers when bottom fishing," he adds. "DownVision allows you to see the entirety of a wreck or structure from a top-down perspective in incredible detail. SideVision allows you to see the same detail, but off to each side of the boat as well. For example, when we fish the San Diego wreck for sea bass in the summer, you can see a large portion of the wreck, and sometimes the rotted-out turret mounts. This always acts as a conversation starter with customers, given that you can show them a clear outline of the wreck they're fishing, along with individual fish."
Other Raymarine equipment aboard the Ocean Vue includes dual VHF radios for safety and fleet communications, satellite weather and other various service subscriptions that mesh seamlessly with the Axiom Pro MFDs, and satellite TV for when the fish aren't biting.
"Our 42' Calvin Beal, finished by Farrin's Boat Shop and outfitted by Roger at CMI, is one hell of a boat and has exceeded our expectations," says Morse. "Being a Downeaster, she can handle some really imposing weather conditions and can maintain 16 knots in just about anything without worry. In fact, during this current season in North Carolina, she has gone out almost every day to fish, while many of the local boats have remained dockside. And while some other Downeasters can be a bit uncomfortable while drifting, Ocean Vue's 15'-6" beam coupled with the shape of her hull allows for a pretty comfortable time in less-than-desirable weather. Personally, I've never felt uncomfortable while on a trip, and we've been in some pretty nasty weather in the three years we've had her."
When she isn't fishing commercially, the Ocean Vue is available for charter. "Anyone interested in fishing aboard the Ocean Vue out of Long Island should go," advised Williams. "It's obviously a beautiful boat, but from the owner to the crew, they are straight up pros, a class act and just plain old good guys who love putting clients on fish!"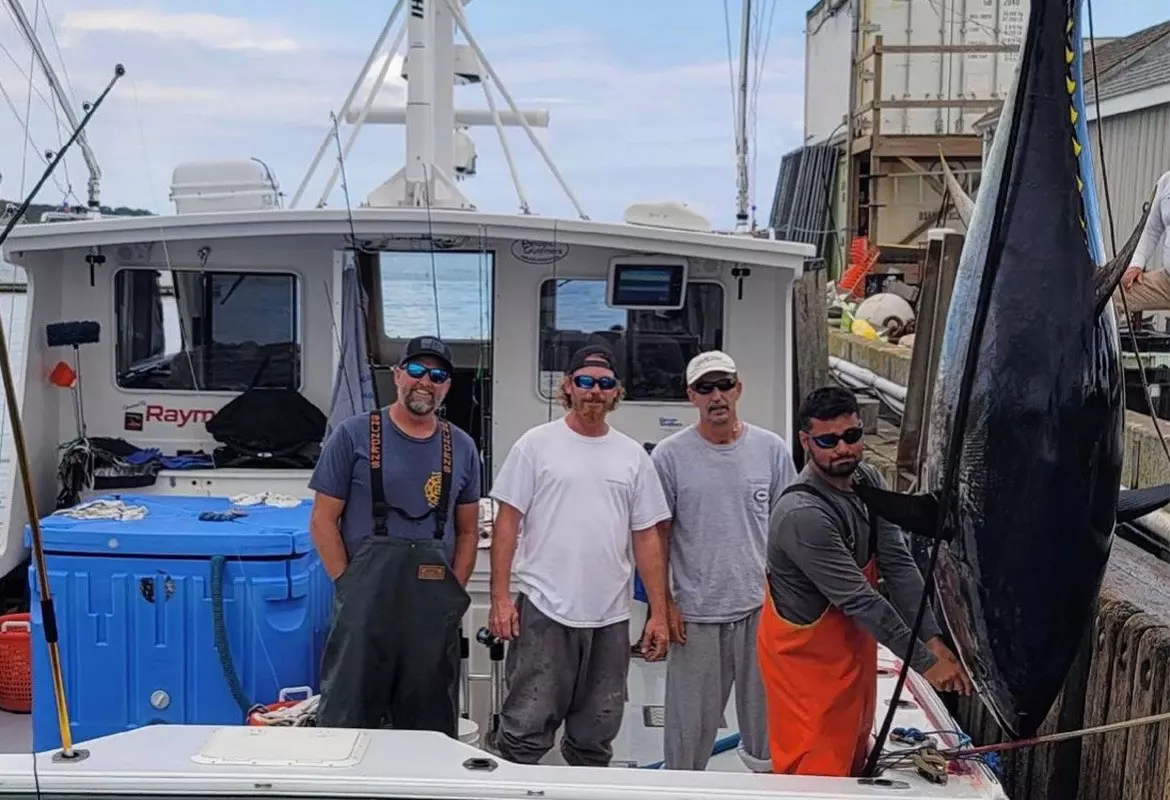 In addition to chartering and fishing commercially, Morse has other plans for Ocean Vue. "Initially when we built her, we wanted to give back to veterans through fishing trips, but this was curtailed due to the COVID-19. We then thought this would also be a good way to give back to first-responders in some way. So, in the future, we are planning to work out some special trips to give back to those involved in fighting the COVID-19 pandemic as a show of gratitude for what they've done. In addition, we would still like to provide trips for veterans, firefighters, and police officers going forward, once the pandemic abates."
With respect to his operations at CMI, Williams says he'll be announcing some exciting news very soon. "We are in the process of setting up a new facility, ready later this year, that will allow us to expand or services and better support the local boating community," he reports. "We can't wait to get it rolling."
Learn more about the Ocean Vue and Ocean Vue Sportfishing at http://ocean-vue.net.