Miami, Florida – Global marine electronics leader Raymarine and autonomous boat navigation provider Avikus, announced today the signing of a multi-year Exclusivity Business Partnership Agreement (EPA) at the 2023 Discover Boating Miami International Boat Show. The two companies will exclusively cooperate on development and launch of the world's first autonomous leisure boat solution, the Raymarine x Avikus NeuBoat. In addition, they will develop and launch a full product family of autonomous leisure boat systems designed for different boat sizes, types and uses.
Raymarine brings world-leading expertise in marine electronics and navigational equipment for leisure boats to the partnership, while Avikus is known for the most advanced autonomous leisure boat technology available. This is coupled with vast experience from the world's largest order book of autonomous commercial marine navigation systems.
The EPA solidifies the business partnership between two of the world's most innovative marine companies, and their autonomous products will usher in a new era of boating. As shown at CES® 2023, the Global Stage for Innovation, Avikus and Raymarine's shared vision is that autonomy will enhance the boating experience for every boater, from autodocking to ensuring a bigger catch or finding the perfect sunset spot. The two companies envision that autonomous boating will lower the barriers for new boaters to buy a boat, helping grow and diversify the market.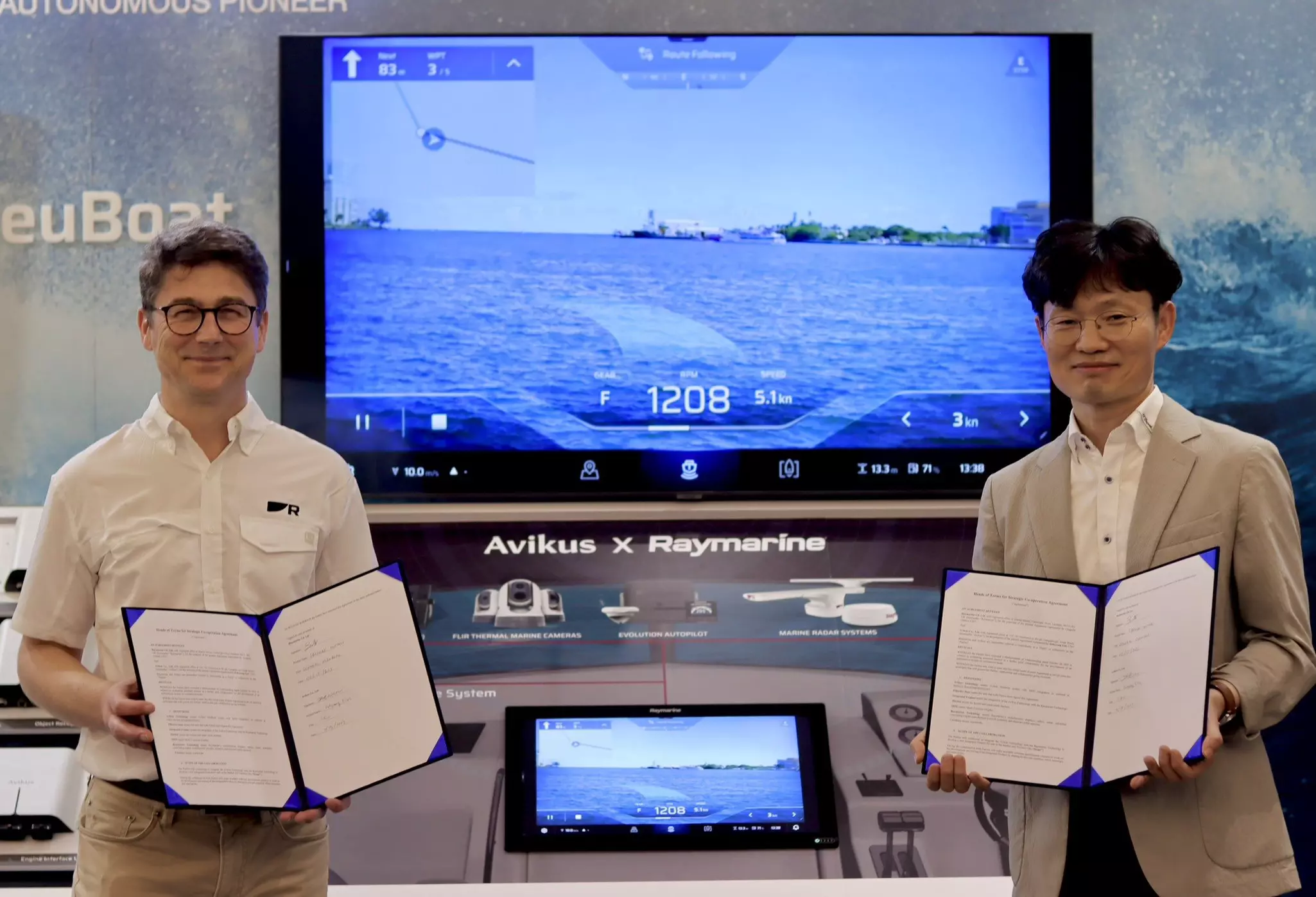 "Raymarine is the perfect partner for Avikus," said Dohyeong Lim, CEO of Avikus. "Their technology and experience bring us the best opportunity to reach out to customers. The NeuBoat was already the most advanced autonomous leisure boat system and with this exclusive business partnership it will continue to be the market leader for many years to come. We are incredibly excited to shape the future of boating with Raymarine, a future where the boater decides what to do without worrying about how."
"In October we entered into an MOU with Avikus to explore the use of their technology in Raymarine chartplotters and establish a joint effort to develop exciting new autonomous solutions for the leisure marine industry," said Gregoire Outters, General Manager at Raymarine. "Today we are entering into an exclusive business partnership which will see Raymarine's sensors become fully integrated with the innovative NeuBoat technology developed by Avikus. We are excited to be working closely with Avikus to deliver the new technology into the hands of our customers, making boating more accessible and safer for everyone."
For more information on Avikus and its industry-leading autonomous boating solutions visit www.Avikus.ai. For more information on Raymarine and its extensive line of innovative marine electronics, visit www.raymarine.com.