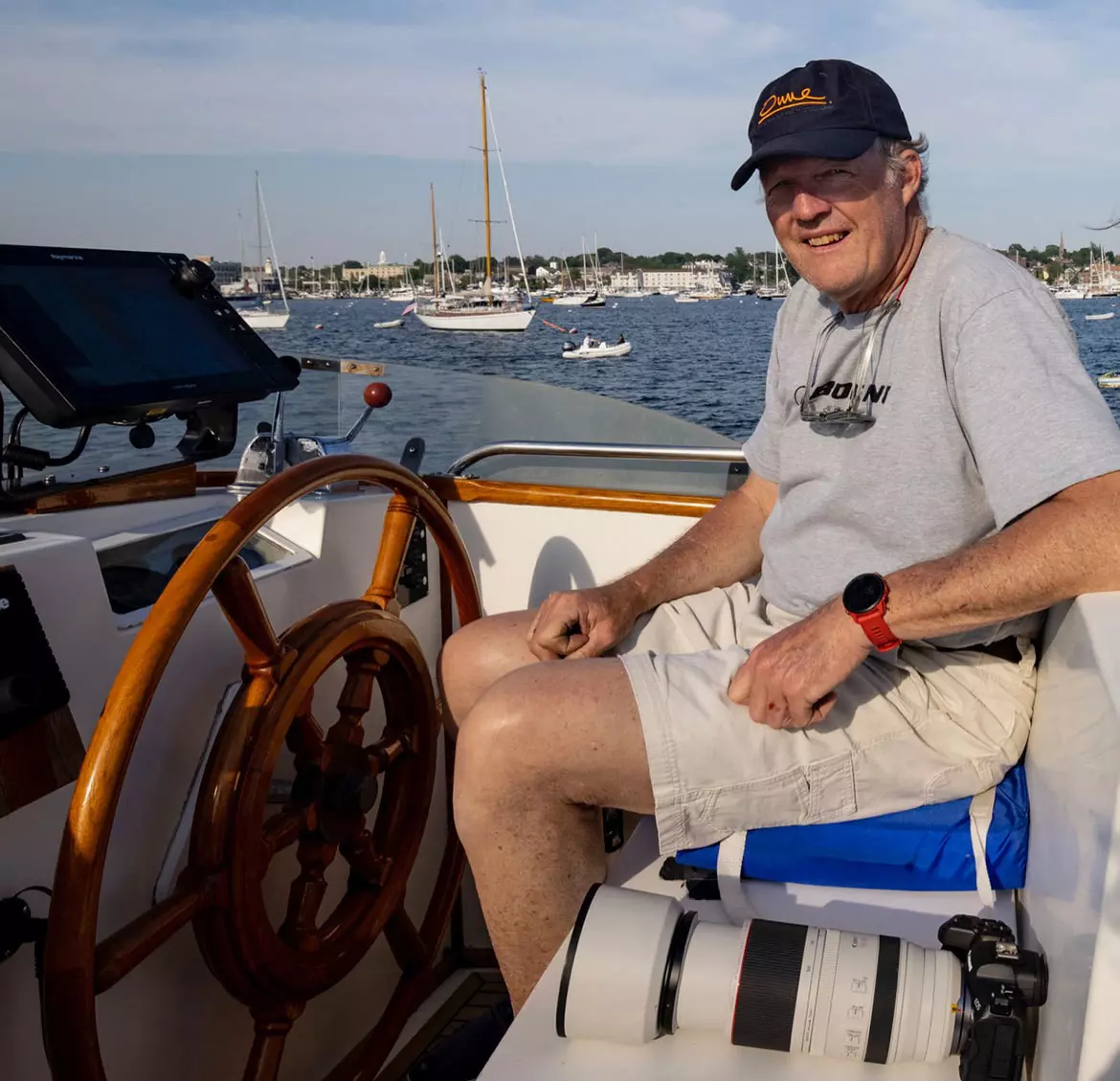 Born in the Netherlands and raised in South Africa, Onne van der Wal took to the seas at a young age. Early, indelible memories were forged sailing aboard his grandfather's boat in Holland. Later, working as a commercial fisherman from the port of Hout Bay throughout his teenage years, van der Wal's love for the ocean compounded. "I liked the vibe of being at sea and catching fish," he recalls. "Growing up, there were always boats in the family and all our vacations revolved around boating, sailing and fishing."
As van der Wal grew into a young man, his passions for the sea and for boats matured with him. He became an acclaimed sailor and entered the 1981 Whitbread Round the World Race on Flyer, leaving the competition in his wake. His artful photographs depicting scenes from his maritime adventures became widely published, paving the way for van der Wal to combine his two loves – boating and photography – into a vocation.
Today, Onne van der Wal lives in Jamestown, Rhode Island, where he and his wife, Tenley, own and operate a gallery showcasing his work, which has been published in boating and sailing magazines and other forms of media over the past 35 years. A machinist by trade, van der Wal also enjoys working with his hands. Boat restorations have allowed him to throw this skill into the mix of a life well lived. He completed a well-publicized restoration of a 1972 Pearson 36 sailboat named Snoek a few years ago and is currently wrapping up the refit of a 1986 Grand Banks 32 trawler, Snow Goose.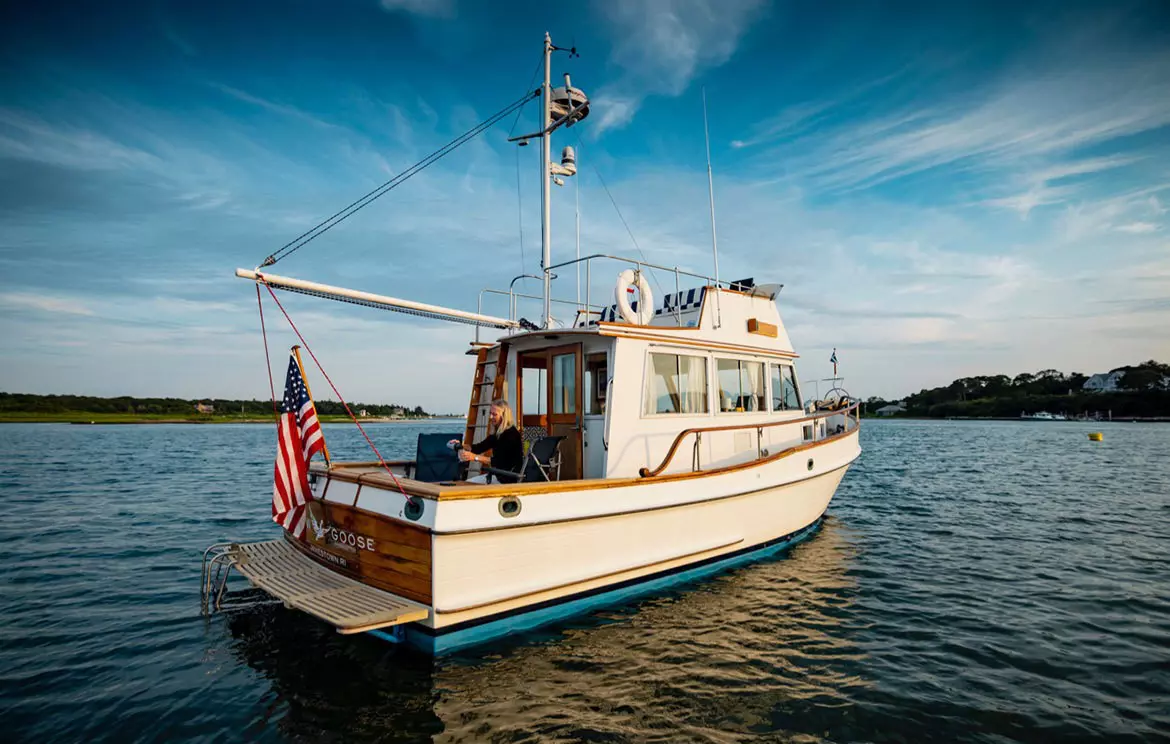 "I've been keen on trawlers since my teenage years in Cape Town," van der Wal says. "We had a lot of fun with Snoek, but my wife isn't a sailor at heart and we were ready for something different." Van der Wal says he was fortunate to find the solid Grand Banks 32 under his nose in Jamestown before it was even listed for sale. "We bought it and put it on the hard, where I spent six months restoring it last winter. It's simply much better for photography than a sailboat; it's more comfortable with more room and more daylight. Tenley and I just love it."
Van der Wal describes the condition of Snow Goose as "very sound structurally, needing mostly cosmetic and systems upgrades," when purchased. "The fuel tanks had just been replaced and the hull was rock solid," he says. "The thickness of the fiberglass, quality of the teak, and methodical wiring were all wonderful surprises. The Pearson required quite a bit more work, but Snow Goose was a really solid starting point."
Updates to the boat's plumbing were among Van der Wal's first updates. "I installed a new head along with shower and galley fixtures, undertook some fine painting in the cabin, and refinished the cabin sole," he says. "It was rewarding work and it all came together very nicely." A variety of hatch replacements and other small projects followed.
A complete refit of the Grand Banks' electronics and instrumentation was one of van der Wal's top priorities. "I wanted to update this classic vessel with an electronics system that would bring the latest functionality and a modern aesthetic to her classic and capable design," says van der Wal, who looked to Raymarine and Cay Electronics in Portsmouth for assistance. "It was the biggest project on the boat, and Jim McGowan at Raymarine and Adam Hobgood at Cay Electronics were extremely helpful in talking me through the various options for equipment and best installation practices. I chose Raymarine because it's the brand I have the most experience with," van der Wal continues. "I love the look and the functionality of their products, and just like my photo gear, it really comes down to my appreciation for using the best."
When van der Wal received Snow Goose it had never been equipped with an autopilot. "The previous owner said it couldn't be done with the boat's mechanical steering, but Adam and Jim said it was possible," van der Wal reports. "I engineered a keyway in the shaft, which I had cut in at a local machine shop and it allows the Raymarine Evolution autopilot to work as designed, which is to say great. That upgrade alone represents a quantum leap in our quality of life aboard Snow Goose."
Multifunction displays were next; a 12-inch Axiom Pro at the helm in the wheelhouse and another matching display on the flybridge. "The Axioms are the heart and soul of the system," van der Wal says. "They're extremely intuitive to operate and efficiently and beautifully display all of the information from the boat's various sensors and systems, which include Quantum 2 Doppler radar, RealVision 3D sonar, wind speed and direction, AIS information, and real-time imagery from a Teledyne FLIR M232 thermal camera, FLIR A8X thermal engine-room monitor, and CAM210 visible light camera."
Van der Wal says he appreciates the enhanced situational awareness his Raymarine electronics deliver. "We can run Raymarine's ClearCruise AR (Augmented Reality) with either the FLIR or the forward-mounted CAM210 camera, which provides tremendous benefit and peace of mind when navigating busy waterways, as does the thermal camera at night and the Quantum 2 Doppler radar," he says. "It's always stressful in the fog with all that tide and current. AIS lets me know who is out there and makes it easy to communicate on the Ray91 VHF radio about what I'm doing and what other vessels are doing. That communication boosts safety. And the radar overlay on the plotter with doppler allows me to clearly differentiate incoming and outbound targets; it's fantastic." And the FLIR camera in engine room? "Well, I hope I never need it," van der Wal says, "but again, it provides additional peace of mind knowing that I can watch for smoke or any other abnormalities in the engine room from either control station."
Onne and Tenley have been enjoying cruising on Snow Goose this season, but say the Grand Banks isn't quite done yet. "We use the boat once or twice per week," Onne says. "We spent a week cruising to Nantucket and back through the islands and everything worked great. It's been a huge affirmation of the work that's been undertaken and the experience was extremely satisfying." Van der Wal says he'll tackle three remaining projects this winter. "I'll be replacing the refrigerator and the hot water tank, and we also need to complete the varnish, which is only about halfway done at this point. I also plan to sound-proof the engine room."
When Snow Goose is complete – if any vessel can ever truly be considered so – it will mark van der Wal's fourth boat restoration, which prompts a logical question. What's next?
"We were very fortunate to find the 32, but we may go to a Grand Banks 36 at some point to have more space and an extra cabin," van der Wal says. "We've been looking around but nothing is available, which is okay because the truth is Tenley thinks Snow Goose is perfect. We've been talking about cruising her up to Maine next summer and possibly down the Intercoastal and over to the Bahamas, so taking on a new project may not be the best idea at this time."
Sounds like the words of a smart man, but at the end of the day they're also the words of a man who loves the idea of fixing up old boats. Time will tell.
Follow Onne van der Wal, his work, and his adventures on Facebook, Instagram, and YouTube, which includes a playlist of dedicated Snow Goose refit videos, as well as on his website.
All images courtesy of Onne van der Wal Photography & Video.