At its most basic level, digital switching replaces the traditional mechanical circuit breakers and switches onboard your boat with a state-of-the-art digital power distribution system. Feeds from the digital switching module can be individually programmed to deliver the right amount of protection for the devices connected to the circuit. They can also be programmed to support advanced capabilities like dimming lights, operating motors or hydraulics, starting or stopping major equipment, or monitoring sensors.
This smart boating system not only offers convenience and ease-of-use, it also delivers on the promise of seamless, reliable operation as well as simple and cost-effective installation.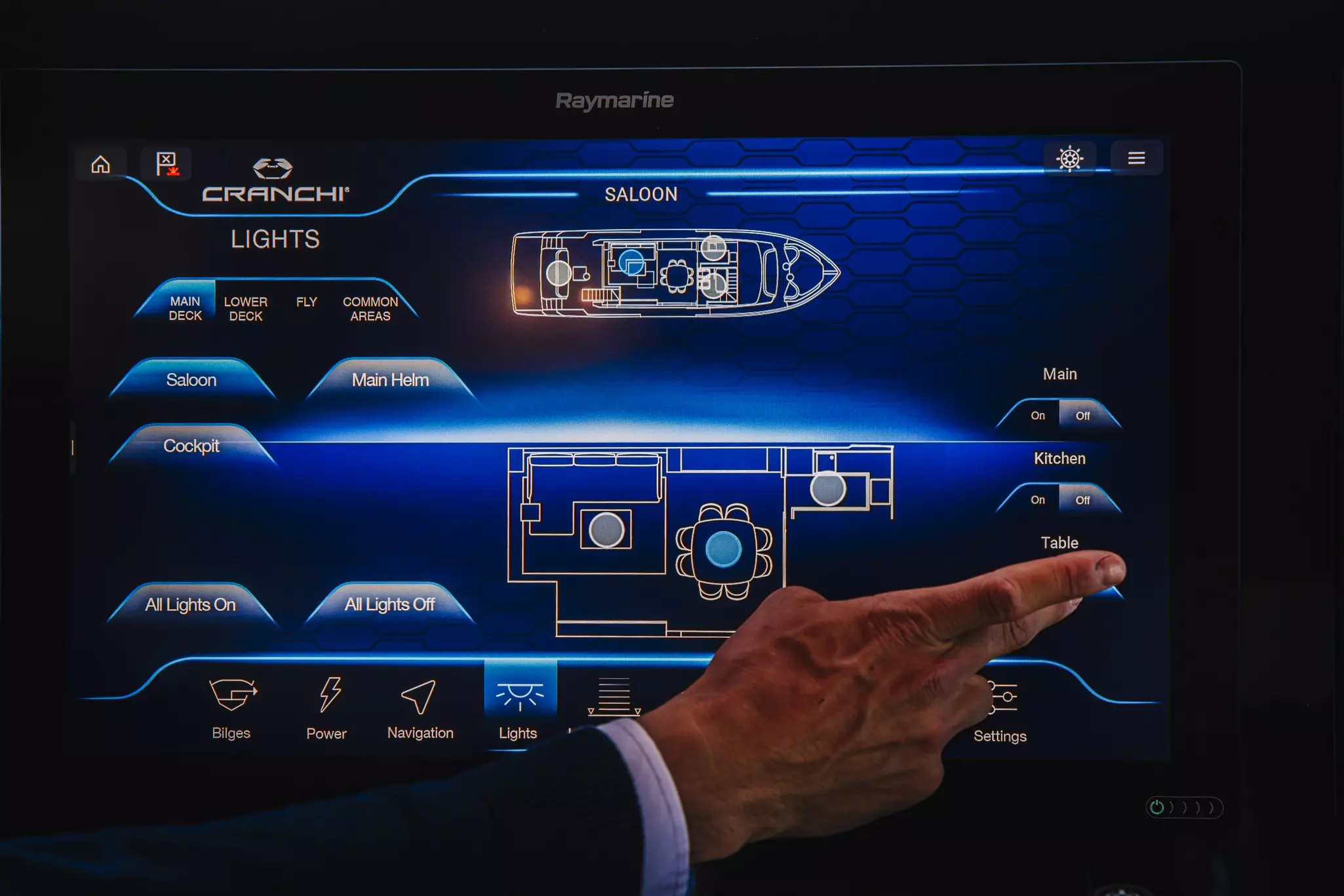 Graphical Control Interface
One of the prime reasons for moving to a digitally-switched boat is the options it allows for when it comes to controlling the system. Instead of having tens or hundreds of mechanical switches in various panels around the vessel, a digitally switched network.
What Kinds of Digital Switching Systems work with Raymarine Products?
Raymarine's Axiom-series chart plotters and multifunction displays can work with several different brands of digital switching systems. YachtSense Digital Switching, by Raymarine, is available on many new-build boats and yachts. YachtSense Digital Switching is one of the most flexible and highly customizable systems available on the market today. Click here to learn more about YachtSense Digital Switching.
EmpirBus Digital Switching is another popular system available on many new boats. Raymarine's LightHouse 2, LightHouse 3 and LightHouse 4 displays can all control EmpirBus systems.
C-Zone Digital switching is a popular new-build and aftermarket digital switching solution. New boats can benefit from a full digital switching experience while older boats can benefit from upgrading select portions of the boats electrical system to add modern conveniences. C-Zone is also compatible with Raymarine Axiom chart plotters and MFDs.
Boening Ship Automation is a digital switching and automation provide that creates highly customized systems for recreational boats, yachts and commercial vessels. Boening systems are also controllable by Raymarine systems.
Simple Control from a Rich, Graphical Interface
One of the highlights of any digital switching system is the ability to control the system from an intuitive, graphical interface. Instead of working from tens or potentially hundreds of physical switched and breakers around the vessel, digital switching systems are typically touch-controlled from customizable screens that make it extremely easy to understand the status of circuits, systems, equipment and alarms across the vessel.
Rich graphics and even animations can be added to digital switching pages to further help the operator understand what is happening with each controlled item. The system can be controlled from touchscreens at the helm, touch panels around the boat, or from Smartphones or tablets onboard or away from the vessel.
Controllable Items
What kinds of things can you control with a digital switching system? The answer is really just about anything and everything on your boat. This diagram just scratches the surface as to the kinds of circuits, systems and equipment that can be controlled or monitored.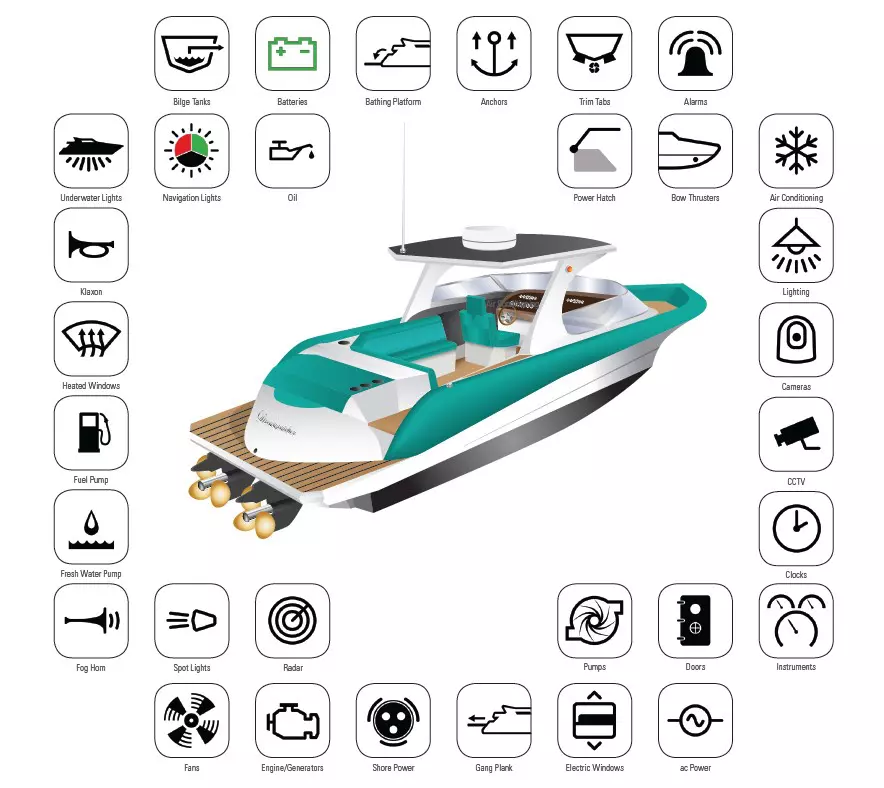 Take Smart Boating to the Next Level
Are you ready to invest in a Digital Switching system? Speak to your boat builder or marine electronics installer to find out what options are available for your boat. You can also check out our YachtSense Digital Switching product page to learn more.